Hope Crosses Any Terrain is a statement of how Land Rover goes above and beyond. It is a single entity within Land Rover South Africa, responsible for development of all humanitarian and conservation projects in South Africa and sub-Sahara Africa. This includes the current project portfolio and will extend Land Rover's reach with some new strategic projects that complement the values of the brand while saving and improving lives and bringing hope to remote parts of the African continent.

"Land Rover is incredibly passionate about giving back to the communities in Africa. This can be seen in the 1 127 540 lives we've positively affected over the years," said Lisa Mallett, Marketing Director of Jaguar Land Rover South Africa and sub-Sahara Africa. "This year we will dedicate even more time and resources towards improving lives, with our ambassadors playing a key role in delivering life-saving aid and inspirational messages across the continent.

"All existing projects have been very successful, to date. Through various expeditions in 2015 the Kingsley Holgate Foundation distributed malaria nets to protect 50 616 women and children, provided reading glasses to 7 786 people in rural villages through the Rite to Sight campaign, and handed out 5 130 LifeStraws – a simple device that can purify up to 1 000 litres of dirty water and make it safe to drink.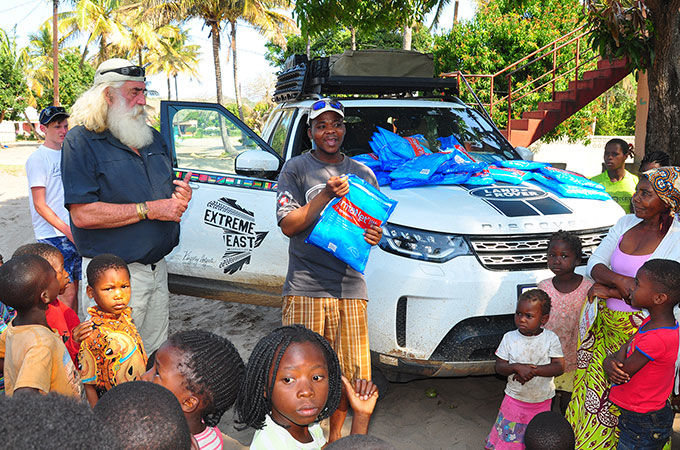 Land Rover's association with the Born Free Foundation goes as far back as the 1966 film starring the Foundation's founders, Virginia McKenna and Bill Travers. In Africa, the Born Free Foundation is supported through the supply of Land Rover vehicles in South Africa, Ethiopia and Kenya. These vehicles are used for the charity's work in conservation and animal welfare initiatives in challenging locations.
All across South Africa the South African Red Cross Society (SARCS) has helped people in remote areas deal with HIV and tuberculosis. Last year 50 612 people received aid from SARCS, with their clinicians using Land Rovers to access remote areas of the country where there is no healthcare.
Throughout 2016, Hope Crosses Any Terrain will build on the foundations laid by these initiatives through continued support. Land Rover has also invested in community outreach programmes. This will see backpacks, water bottles, stationery kits and educational items being distributed to less-fortunate children across the country at sports clinics presented by Land Rover ambassadors, including Stormers/Western Province rugby players. Additionally, Kingsley Holgate will present educational talks highlighting the importance of conserving Africa's indigenous wildlife, with a focus on elephants and endangered rhino species – both of which are the targets of poaching and illegal hunting.
With 114 144 beneficiaries reached in 2015, Land Rover has no intentions to slow down its efforts to reach out to those in Africa. Through Hope Crosses Any Terrain Land Rover will go above and beyond in 2016 to reach a total of 125 558 beneficiaries – from the underprivileged in community schools near cities, to those in rural mountain villages in the most far-flung corners of Africa.